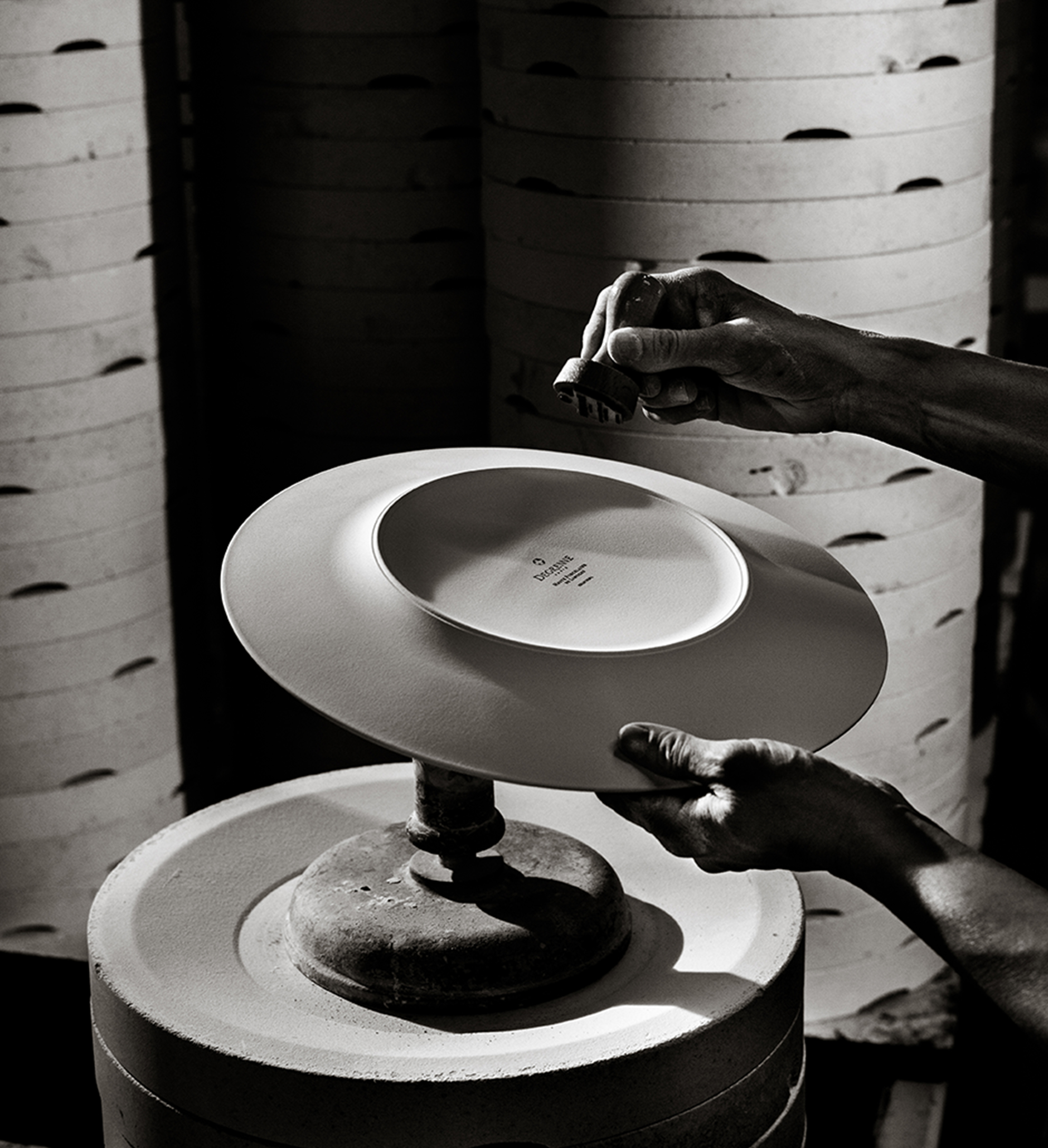 A great French house
At a time of great uncertainty, let's act today while building tomorrow.
DEGRENNE has been a responsible and committed French manufacturer since 1948 and is proud to have been named an "Entreprise du Patrimoine Vivant" (living heritage company) thanks to the high-level of expertise of its factories in Vire and Limoges.
Choosing DEGRENNE means committing to a French brand that particularly prioritises local production, in order to preserve French prestige, promote the image of France and guarantee the jobs of craftsmen who are passionate about their work.
DEGRENNE is more committed than ever to cultivating the spirit of innovation so strongly rooted in its heritage, in order to embody a renaissance in the Art of Living. It is by focusing on sustainability, innovation and transparency that we will be able to increase our competitiveness and create jobs in France.
A visionary man
Founded in 1948, DEGRENNE is an astounding history of entrepreneurship driven by the dream of a goldsmith.
The visionary founder Guy Degrenne quickly understood the potential of stainless steel and embarked on a quest: rethinking tableware by democratizing goldsmith.
When post-war France was rebuilding itself, his intuition led him to a revolutionary idea: to retrieve the steel armor of the tanks used during the Battle of Normandy and use it to create the stamping matrix of stainless steel cutlery.
The House of DEGRENNE was born: with its unprecedented audacious process, it will leave its mark on tables of yesterday and today.
A continuously renewed know-how
Far from resting on this founding revolution, the House continues to write its history throughout the twentieth century. Focusing on French know-how, it is first illustrated by the steel cutlery produced in its goldsmith workshops in Vire in Normandy, giving life to the majestic steel coils, forging and polishing exceptional pieces.
During the 1980s, it expanded its know-how and acquired porcelain factories in Limoges and Alföld, Hungary, where the expert hands of craftsmen turned the factories with passion to create unique pieces.
A guarantee of precision and expertise, the DEGRENNE know-how allows the House to combine tradition and innovation in all Tableware.
A recognised excellence
Praised by many great chefs around the world, DEGRENNE collections dress the most beautiful tables and celebrate the revival of French Gastronomy, highlighting the colors and exhaling flavors.
The brand inspires professionals but also collaborates with them to create real tasting tools, designed to create the most beautiful emotions.
Proud to be recognized by the State as "Entreprise du Patrimoine Vivant", DEGRENNE maintains the creative spirit of its teams and preserves the excellence of these regional know-how, aware that these are its first wealth.
Proud of our artisans
Both in Vire and Limoges, men and women who are passionate about their profession perpetuate the savoir-faire that has been transmitted from generation to generation and are always ready to take on new challenges.
Each artisan contributes to our story and every pathway bears witness to the wealth of our abilities. We require each artisan to be devoted to high quality, rigorous technique and well accomplished handiwork.